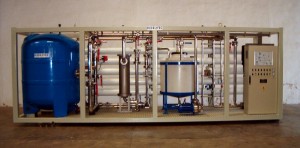 Spain is a worldwide leader in water engineering, more specifically in desalination processes. It is not by chance that the Region of Murcia, one of the most important agricultural areas in Europe, used to having to make the most of the very last drop of water, has developed membrane technology to the highest level.
Hidrotec, a company located in La Palma Industrial Estate in Cartagena, takes this technology all around the world, manufacturing equipment designed to suit many businesses.
Working on this market for over 20 years, Hidrotec designs and builds equipment for water desalination from salty wells and from the sea, using reverse osmosis technology.
However, in addition to reverse osmosis and as a result of several lines of research carried out by company technicians, less well known technologies have been developed such as removing dissolved oxygen or CO2 from water by means of membrane contactors, separating substances with different molecular weight using nanofiltration or using ultrafiltration as a treatment or pre-treatment for a range of other processes.
Consequently, Hidrotec works as technological support for the industry inside and outside the Region of Murcia in many cases, openly and actively involved in developing equipment required to optimise productive processes, or improve certain products, thereby making companies in the area more competitive.
One example is equipment to separate and concentrate mono and disaccharides (sugars), milk proteins, alcohol, fruit juices or any other process that requires molecular level separation using membrane technology.
In the same way, Hidrotec builds water treatment plants for the chemical industry, plants producing demineralised water for the food industry or ultrapure with electro-deionising systems for labs, research centres or the pharmaceutical industry, manufacturing under the strict European pharmacopoeia rules.
A different problem issue has been encountered in areas of Latin America such as Chile or Peru where work is already underway on technologies to remove pollutants that affect communities via the water, as a consequence of copious mining, applying selective ion elimination systems for boron or arsenic or in combination with others to eliminate chromium or cadmium.
They are also taking their technology to African countries such as Morocco, Equatorial Guinea or Senegal, working with the dairy or drinks industry, and making river water drinkable to supply cities in Angola using ultrafiltration systems, minimising the use of chemical products. Leachate treatment plants in Portugal or high quantity water supply to hotels around the world.
Read More